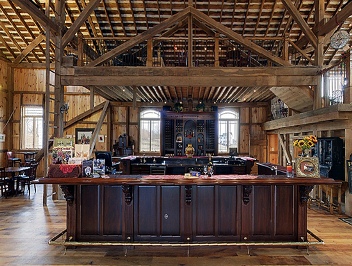 A Visit To Middleburg Virginia AVA
The new Middleburg Virginia AVA wine region is strikingly close to both Washington DC and Baltimore MD and presents highly rewarding wines that visitation to cellar door will unveil. While many wineries existed prior to the AVA approval, wonderful wines of Bordeaux and Italian varietals, many blends, will now begin to define expectations on arrival.
by Barbara Trigg
February 5, 2013
---
<!>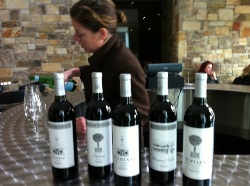 All Rachel Martin wanted was the ability to put "Estate Bottled" on her hand crafted wines. That quest, begun in 2006, culminated in the approval of the new Middleburg Virginia AVA in September 2012. Approval is a long and complicated process, but Martin, Executive Vice President of Boxwood Estates in Middleburg was up to the challenge and now wineries in the region, which straddles both Fauquier and Loudoun Counties in Northern Virginia, can proudly label their wines as having a distinct sense of place.
Located about 50 miles west of Washington D.C. the Middleburg Virginia AVA sits outside the madness of the beltway. The roads are narrow, centuries old stone fences border large estates and horses have room to roam over the gently rolling hills. The Blue Ridge Mountains are seen to the west, streams dot the area, and the views are spectacular. This is Northern Virginia hunt country but the bucolic countryside, part of the Mosby Heritage Area, is also home to many Civil War, Colonial, and Native American landmarks. History comes alive here.
There is also a long and rich history of winemaking in Virginia. As early as 1619, the settlers in Jamestown attempted to make wine from indigenous grapes. Thomas Jefferson made several unsuccessful attempts to produce fine wines from Viniferous varieties imported from France. The indigenous grape, Norton, reportedly was first grown in Richmond, Virginia. Most of it came to naught and disease, a continental wet and humid climate, and of course prohibition, virtually put an end to wine-growing for several hundred years. But winemakers and grape growers are optimistic and intrepid souls. Wine growing began again in earnest in the 1980s and Virginia is now home to some of the finest wines in the U.S. Middleburg Virginia AVA is the newest of the seven appellations in the
There are currently 25 wineries in the AVA. Production includes both viniferous and hybrids, but the trend seems to be toward V.vinifera. Bordeaux varieties tend to dominate but there is great diversity of wines to be sampled. Cabernet Sauvignon, Cabernet Franc, and Viognier may be the best known varieties being grown but expect to be delighted by wines such as Tannat, Petit Verdot, Sangiovese, and a little known white grape, Petit Manseng, which I feel could overtake Viognier in this region. The wines taste of the vintage; fuller bodied in warm seasons and lighter bodied in the cooler ones. With the minimal interventionist production methods you are able to "taste" the vintage. These could be considered "honest" wines.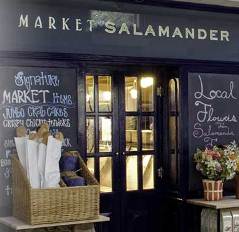 In the center of all this fun is the charming town of Middleburg. We stopped for lunch at Market Salamander in the center of town for gourmet sandwiches. Middleburg was founded in the 1700s and so named because it was the middle point on the Ashby Gap trading route (now Rte. 50) between Alexandria and Winchester Virginia. The town maintains its historic charm. It would be easy to imagine you are in the English countryside. One beautiful facility to visit is the National Sporting Library and museum with its impressive collection of books and sporting art. As this is prime horse country, you may want to visit during the Upperville Colt and Horse Show in June which has been an annual event since 1853. Stop in The Red Fox Inn which is the oldest continually operating Inn in in the United States. Look for the opening of the Salamander Resort this summer. I might add that the grocery store also sells local wines, which is something I always check for.
I visited eight wineries in my two days there and was amazed and delighted with the quality of the wines, the beauty of the wineries and the passion of the growers. I tasted world class wines which need not be compared to other regions but can stand on their own excellence. This region has wineries dating to the 1980s but the renaissance is occurring now. Grapes are being grown on soils and locations that handle the vagaries of the climate. Sustainable and green are not just words here but commitment to the future. Most wineries produce less than five thousand cases a year, and while most are sold on site, expect to find more in restaurants and wine stores.
My exploration of these wineries began at BOXWOOD WINERY, less than a mile off Rt. 50 from the center of Middleburg. Set down a path behind a low stone wall, Boxwood is a state of the art winery with internationally known wine and vineyard consultants assisting the winemaker. Rachel Martin has studied wine making in Napa and France and her passion for making great wine is evident. It was her belief that wine must express the vineyard that prompted the development of this new AVA. She produces wines of traditional grapes used in Bordeaux. Trellis is a blend which may contain all five of these grapes. It is medium bodied, tasting of cherries and herbs. Boxwood is a blend in the Medoc tradition. Primarily Cabernet Sauvignon, the wine is rich, full bodied, complex with dark fruit, chocolate, tobacco notes, and lots of spice. Topiary is styled more in a "left-bank" tradition, showcasing Cabernet Franc. Deep in color, full bodied and complex, this wine is full of red fruit like strawberry and cherry and lots of dried herbs and spice. All of these wines were elegant and would be welcome at any dinner table. I was fortunate to have tasted the 2007 vintage also and can attest to their age-worthiness.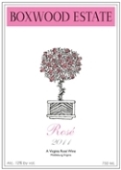 I took a bottle of the Boxwood dry rose to a Christmas dinner with friends. We were intrigued with this wine. A pale pink/salmon color, the nose hinted of unsulphered Turkish apricots while the flavor was of dried tart cherries. It has a dry, almost salty finish. It was the hit of the party and could easily be a year round wine. All agreed it paired well with a spinach and cheese frittata but would go easily as well with roast chicken or salade nicoise. Set the table with Virginia wildflowers and enjoy.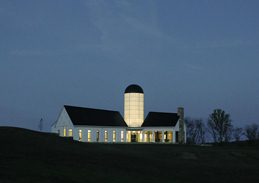 From Boxwood we visited RdV WINERY. Another state of the art winery, open by appointment only, RdV produces only two Bordeaux style wines but they are included on some of the finest restaurant lists in the country. Owner Rutger de Vink has set a new standard for age-worthy Virginia wines. They are structured and elegant, the result of painstaking vineyard practices and a commitment to excellence. They are among the most expensive wines in Virginia but checking around, there seems to be consensus that these wines warrant the high price tag. And I agree.
The third stop was DOUKENIE WINERY, just outside of the town of Leesburg, in Loudoun County. The tasting room is in a lovely barn overlooking a pond on this 500 acre property. We stood at the bar to taste and really enjoyed their wines. I am a fan of white wines and really enjoyed the "Mandolin", a blend of Traminette and Vidal. Of special note to me was the 2010" Vintners Reserve", a full bodied complex Bordeaux blend whose flavors of dark fruit and pepper lingered on the palate for a long time. This wine spends 24 months in oak and is one to lay down for a while. Also of interest is the 2009 Petit Verdot, a grape that seems to be doing exceptionally well in Virginia. Dark and inky with fine tannins, Petit Verdot here seems more refined in this cooler and wetter climate and makes a lovely table wine. The 2010 Cabernet Franc is loaded with tart strawberry and herbs. Very enjoyable tasting! These wines have garnered rewards in many prestigious wine competitions and in print.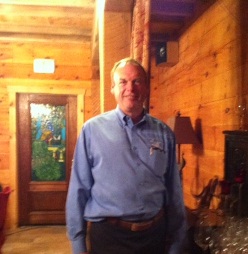 Last stop of the day is SUNSET HILLS WINERY in Purcellville, in Loudoun County. I was shown around by owner Mike Canney, a successful entrepreneur who has put his multi-talents to work on this beautiful winery. Completely solar powered, 154 solar panels power the winery and winemaking operation. This property provided dairy products to Washington, D.C. from 1880 to the 1960's and the Canney's purchased the historic property in 1997. Their 140 year old 8,000 sq. ft. barn has been painstakingly renovated by Amish craftsmen. The soaring renovated tasting room, with a balcony overlooking it for wine club members only, is filled with antiques and is stunning. One of the largest wineries in Virginia, they are committed to sustainable and green farming techniques. The passion for authenticity is evident not only in the property but in the wines. The 2009 Reserve Cabernet Franc is classic. Lower crop yields produce a tart, not at all "green", full-bodied wine jammed with dark fruit mixed with herbs and savory spice and a touch of white pepper. This is a wine that showcases why Cabernet Franc is continuing to define Virginia reds. I loved the Viognier but was really surprised by the dry Petit Manseng, a tart, almost salty white wine that was new to me. This wine, which almost always has some residual sugar because of its high acidity, seemed to be somewhere between a Riesling and a Muscadet. A charming wine, I think it could rival Viognier and become just as popular in Virginia. This is a must visit winery. The wines are great, the winery is beautiful, and there is music and food on weekends.
Day two brought me to four more wineries. First stop was DELAPLANE CELLARS, located on a country road just off Rte. 66 in Delaplane. I was met by the very personable owner, Jim Dolphin, at this lovely winery just over Lost Mountain from RdV Winery. The tasting room, set on a hillside, overlooks a wide spanse of the western hills. The goal here is to craft single vineyard wines that reflect the unique vineyard sites. The 2011 Maggie's Viognier was filled with melon flavors, rather than the usual apricot, possibly reflecting the cooler 2011 growing season. The 2011 Cabernet Franc is light to medium bodied with delightful notes of strawberry and pepper mixed with herbs. The 2010 Right Bank is an age-worthy Bordeaux blend from a warmer vintage and is full of dark fruit, tobacco, and chocolate notes. The 2010 Syrah was loaded with dark cherry flavors. This balanced full bodied wine is also age-worthy but so good you'd have to hide it to keep it. Tannat is also produced here. A lovely late harvest Petit Manseng was delectable.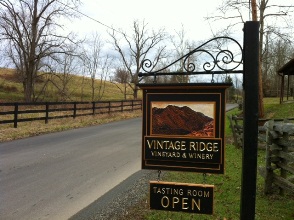 VINTAGE RIDGE WINERY in Delaplane is found off a narrow country road and up a hill past the seven acres of vineyards to an intimate tasting room/ production area, complete with tanks, set in a barn. Low key and relaxed, this small winery produces about 1500 cases a year of estate-grown single varietal hand-crafted wines. "Maiden Voyage' is one of the blends; a rose of Vidal Blanc and Mourvedre. The color is deep yellow and it is a full bodied rose with flavors of stone fruit and licorice. Very compelling for a rose. Owner Bill Edmands believes that the best flavors come from yields held to 3 to 4 tons an acre on vines grown on hillsides with well drained soils. We tasted the 2009 Cabernet Franc which had deep dark fruit flavors with spice and herbs and also the 2009 Petit Verdot which was inky-dark, tannic, and full of complex dark fruit and spice. Loved these wines.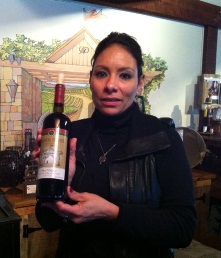 Next, on to CHATEAU O'BRIEN at Northpoint WINERY where I spent a lot of quality time with owner Debby O'Brien. She and husband Howard O'Brien are the two you will talk to when visiting; you will really come to understand their principles and commitment to producing fine wines. All grapes are kept to one to three tons an acre and are picked only when ripe…all green fruit is dropped. They use only native yeast which means fermentation can last from six weeks to six months. They practice organic and sustainable agriculture techniques. And the wines reflect this dedication. I was blown away with the 2009 Limited Reserve Tannat, which is their signature wine. It is full bodied, complex and concentrated with dark fruit. The tannins are immense and it spends about 24 months in barrel which results in a very smooth mouth feel and finish. Petit Verdot, which is often seen only as a blend wine, because it needs a very long growing season to ripen, yet be used as a single varietal, also shines. Their 2009 Petit Verdot shines with rich blackberry fruit and spice. It has a lingering finish and it is easy to see why this grape is becoming so popular in the region. This wine improves with age. The 2009 Cabernet Franc was elegant and fruit forward. The controlled yields remove all vegetal characteristics and provide bright fruit and herbs; all packaged in a lighter style wine than the previous two. Their 2009 Petit Manseng is crisp and dry with tart apple acidity and, again, a little salinity. One of the later ripening white grapes in the region, P.M. thrives in the cool conditions here developing body and flavor. Try the2008 Late Harvest Tannat if you visit here and it is still available. It is huge yet delicate; much like a Port but without being fortified.
My final stop of the day was at THREE FOX VINEYARDS in Delaplane. Owners Holi and John Todhunter love wine and all things Italian. They are one of the few wineries to produce Nebbiolo, Sangiovese, and Pinot Grigio in the AVA and also make wine with Cabernet Franc and Merlot. Tastings can take place in their tasting room or in the vineyard, or even down along the stream on the very scenic property. So late in the day and with a long drive ahead of me, I was unable to taste the wines there but took a bottle of 2009 Piemontese Nebbiolo to share with family in Delaware. The wine was delicious, elegant, and full-bodied, with lots of complex dark fruit. I hope to return to taste more.
I left the Middleburg Virginia AVA region hoping I can return soon. I tasted many award winning wines and met with passionate winegrowers. The wines will soon appear in the marketplace with the new AVA listed on the label and I urge you to seek them out. Most of the wineries are open to the public (with reservations required for groups over six people) and I hope you will read about them on their websites and in the many accolades they are receiving around the United States.