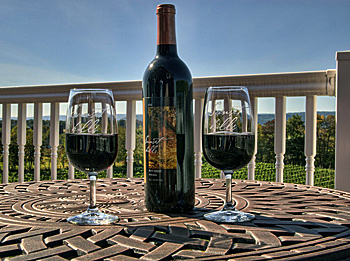 Welcome Middleburg Virginia AVA
The addition of Middleburg Virginia to the list of AVA within the state of Virginia is further recognition to the diversity found in the mid Atlantic coastal states. This region stands out as one that has a very bright future to evolve.

Photo courtesy Sunset Hills
by Roger King
January 4, 2013
---
<!>
With little fanfare, other than around wineries in the new Middleburg Virginia AVA, approval notice appeared in the United States Federal Register – the formal birth place for all AVA appellations in the United States - Sept 13, 2012, effective 30 days from notice. The impact of becoming Virginia's 7th AVA is now beginning to be realized. Media coverage alone, both local and national – consumer and trade – has brought attention to the region and the 24 wineries and 15 grower vineyards in the region.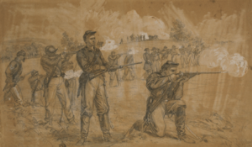 Historically, the town of Middleburg was born 1787 during the Revolutionary War. Land was purchased at the amazing price of $2.50 per acre from Joseph Chinn, a first cousin of George Washington, and had been called Chinn's Crossroad, which later became Middleburgh and then simply Middleburg. During the Civil War two skirmishes were fought in 1863. By the early 1900's the region had become known as the "The Nations Horse and Hunt Capitol" attracting visitors from across the US. Fast forward to 2012 and Middleburg has now taken the anchor role, in name, with the approval of an American Viticulture Area - Middleburg Virginia.
One of the key features of this region, then, again now in a different light, is the Ashby Gap. It served as a trading route through the Blue Ridge Mountains remaining now as the route of Hwy 50 through to Shenandoah Valley. The Appalachian Trail also uses Ashby Gap. But more importantly, in a viticultural sense, is the reality that Ashby Gap is also a wind gap in the Blue Ridge. Geologically cut many an eon ago by river waters moving east to the Atlantic but truncated by the now Shenandoah River which 'pirated' such waters trying to further erode through the Blue Ridge rock and bringing them north to the Potomac River and it's 'water' gap at Harpers Ferry. Air movement down through this 'wind' gap empties into Loudoun Valley and the Middleburg Virginia AVA providing cooler temperatures and reduced disease pressure beneficial to wine grape development.
So what does that all mean? Great wine expressing the region under many an appellated bottle that states Middleburg Virginia directly on label? That is the goal for those dedicated to identifying this region through the prism of their vineyards and wines.
The region, comprised of Fauquier and Loudoun Counties in northern Virginia, tantalizingly close to Washington DC yet pace of life removed, has shown decided results in recent plantings of Bordeaux and Italian varietals resulting in distinctive wines of place. Now they can be called by this specific place of origin.
It is interesting to view the migration of vines from hybrid selections to expanded use of Vitus Vinifera. Cabernet Sauvignon and Merlot have long been the bell weather Bordeaux and staple winery red. Chambourcin and Norton often dominated early hybrid plantings. Better site selections, precision viticulture and winery expansion has led to a significant expansion in other Bordeaux varietals here. Rapid expansion of Petit Verdot for use in a wide array of blend concepts, standalone wines, along with Cab Franc and Malbec, has definitely come to the fore.
Does it portend a vision of Middleburg Virginia becoming a US focal point for Meritage blends of restraint? Maybe not as Italian varietals of Nebbiolo, Sangiovese are making a mark along with the more obscure South West France grape Tannat, known to thrive in warm humid conditions, which VA summer can deliver, and Petit Manseng, a white of this same origin.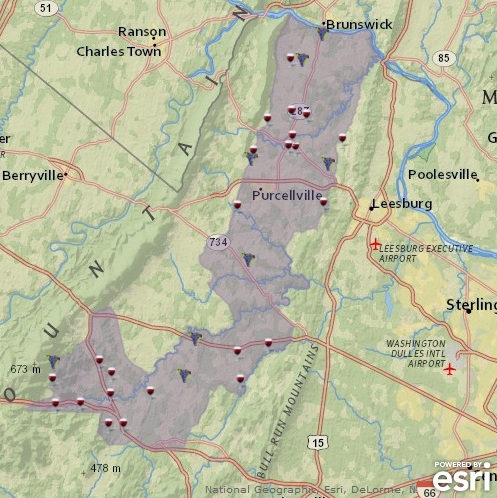 Map by David Savory, WineAtlas.com
While the AVA is large at 122,000 acres it is interesting that vineyards and wineries are clustered in two zones, one to the north above Purcellville, the other in the south clustered somewhat about and to the southwest of Middleburg.
Granite based soils are critical to many a site in the AVA. Hillside plantings in the southwestern aspect of the AVA are showing exceptional results for Bordeaux blends. In fact Middleburg Virginia is hill country, American Piedmont. Microclimates abound based upon small changes in air movement and terrain, not completely dissimilar in relief to the Sierra Foothills of California. An eastern facing slope and humidity in summer months are notable differences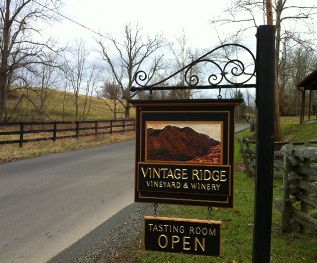 Change is in the wind as Middleburg Virginia steps out on its own. Historically, wineries might have had more focus to cellar door clientele and making pleasing wines for those who arrived. Yet, it is clear, a new emphasis is emerging for some. That emphasis is creating wines for critical review on the national and international stage, to showcase what can be distinctive from this region.
Boxwood Estate Winery and RdV Vineyards in the southern reaches of Middleburg Virginia, are following a direction focused to just several blend wines of Bordeaux varietal. Others such as Delaplane Cellars, Doukenie, Sunset Hills have focused Bordeaux blends along with other white and red varietal selections. Wineries such as Three Fox have struck out on Italian selections. They are gaining notice for their efforts and placements of wines in the Washington DC restaurant community and beyond are materializing. Site selection with well drained soils and appropriate clones has shown this region can excel.
Rutger de Vink, founder of RdV Vineyards was drawn to these conditions found in the Lost Mountain Range of Middleburg Virginia. A site of hilltop granite, 600 to 850 elevation presented the right prospect. With 1200 millimeters of rain during summer, low water retention soils are critical. Hillside and granite based, this water tends to come in thunder storm downburst which primarily run off opposed to sinking into the root zone. Cabernet Sauvignon, the first tier grape at RdV suggests this site is much to the liking of the varietal in a Virginia landscape.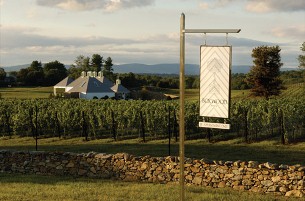 Rachel Martin, Executive Vice President of Boxwood Estate Winery, has found similar conditions at slightly lower elevations of 560 feet. While the granite is now showing itself more as specific outcrop zones, alluvial silty clay soils, with low water bearing capacity, fill in. Careful study of soils and climate have dictated varietal selections and what aspect of the property to place each. Those same factors of granite and drying air movement are proving essential to the results. Cabernet Franc is taking center stage in the Boxwood blends, finding expression of white pepper, minerality and soft tannins.
At first blush the higher more granite based site of RdV suggests Cabernet Sauvignon benefits, while the greater intervention of sandy clays is showcasing Cabernet Franc at less severe sites. Both vintners seem to observe this in their location.
What has been critical to finding the elegance and finesse that is coming forward is also the seasonal change in climate that takes place roughly the beginning of September. Cooler dry air masses tend to filter into this region and allow for several months of ripening 'hang time' were flavor development and phenol ripening come to conclusion.
Sebastien Marquet, winemaker and General Manager at Doukenie Winery fully agrees this fall period of weather change is critical to results but also notes overall vintages are driven by annual weather in this region. Wet summer years can be a great challenge while dry warm summers bring forward the true character of this region.
Cabernet Sauvignon, Merlot, Petit Verdot and Cabernet Franc are becoming the dominate plantings, with Chambourcin, Norton, and a host of white hybrids giving way. This will likely be the signature for Middleburg Virginia. And quite likely as harmonious blends rather than single varietal wines.

Petit Verdot is certainly something to watch in the entire AVA, and possibly Virginia as a whole. It seems to do well in many regions and thrive in Middleburg Virginia. It remains a blender, but a component that brings great value in statement of this regions blends. Granite influences and elevations certainly speak in its outcome, but flower nose, fine grained tannins and lavender perfume deliver to these blends.
Loudoun Valley holds additional wineries, yet they are situated in differing soils and climate to Middleburg Virginia. That is not a situation that differs from the existence of sub appellations in certain regions such as Napa Valley or Lodi. The potential to confirm diversity is abundant
The mainstay of Middleburg Virginia wines are currently found cellar door, some estimate at 90% cellar door sales. There is a consistency with emerging desires to seek local food and agricultural products sweeping across the United States. The region is situated within very short distance to the Washington DC metro complex, a great potential driver for increased visitation. But Middleburg Virginia also offers an exciting element of exploration of the new. Many are surprised by the quality of wines coming forward.
The larger question always arises with a new AVA, that of who and when will the brand name of this AVA begin to dominate the labeled wines of the region. Virginia is a big state and many wines are basically known by state appellation. It has been more difficult to garner recognition of regional diversity under that direction. Certainly the driving forces behind this new AVA seek a larger stage upon which to feature these wines. Time will allow us to see how this plays out.