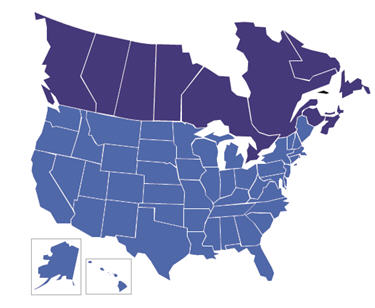 Appellation is Not Terroir
There is no point scale for terroir. There is no point scale for appellation either. Dan Berger responds to critics who say appellations are a myth. He thinks that's a myth-stake.
by Dan Berger
February 17, 2009
---

hen you pick up
a bottle of a Pinot Noir from California's Central Coast and it has none of the green-herbal notes that mark the region's Pinots, you may wonder how it got that way. Chances are the meddling hand of a human being got in the way of what nature usually provides for such wines.
Like it or not, distinctive regions have an impact on the style of a wine. We generally know what a Russian River Valley Zinfandel is and how it differs from one from the Sierra Foothills. We can see the distinctiveness of Chardonnay from Santa Barbara versus one from the Willamette Valley. We know what once defined

Rutherford Cabernet and why today's wines don't show that character much, if at all, any more. Or the best example of all - New Zealand Sauvignon Blanc versus Sancerre.
So I was a bit surprised by an off-center argument a few days ago by
Wine Enthusiast
columnist and blogger Steve Heimoff, a skilled wine thinker and a man whose ideas usually are sound. Entitled
"The Appellation Myth"
, the blog stated his belief that appellations are essentially meaningless. "I have often said that what's important is not where a wine comes from, or who made it, but the actual stuff in the bottle," he wrote.
Heimoff makes a crucial error here, and setting the record straight is another way to define the aspirations of those of us at
APPELLATION AMERICA
who look at wine on a different plane, one that certainly is higher than a single two-digit score.
Each region that grows wine, from Algeria to the Clare Valley, has a soil and weather profile that is extremely complex and, like fingerprints or snowflakes, probably has no duplicate. And they impart a character to every wine from it.
Take steep vineyards such as the Los Chamizal vineyard of Peter Haywood with its 42 acres of Zinfandel. It is all one contiguous piece of land, and it carries the same name from bottom to top. Yet there are nine distinctly different blocks with soils that are complex, ranging from well-drained sandy loams at the lowest levels to thin, fractured basalt soils at the highest elevations. Two sites are called Morning Sun and Rocky Terrace; each makes a different wine.
Or take the four different soils at Diamond Creek - Gravelly Meadow, Red Rock Terrace, Volcanic Hill, and Lake. The late Al Brounstein used to love to point out the different soil types that you can see, each a different color. And when you taste the wines, you see differences in them.
Heimoff's error is that he equates "appellation" with "terroir."
They are not the same. If anything, the former is simply a naming idea, and is not even a system. And since Heimoff says "our AVA system is broken in some way," let me state it as clearly as I can. The U.S. government hasn't got the slightest interest in wine style when it approves appellations. The only reason the U.S. government has any interest at all in wine is that wine provides tax revenues. This runs counter to other worldwide regulatory wine bodies that do care about quality and style.
Were the appellation scheme a system, then the government would pay some attention (even if only lip service) to wine styles in its perusal of applications for new AVAs. The subject has never come up.
I believe even Heimoff would agree that an appellation is nothing but a name. That, after all, is what the word means. And it may be seen as an umbrella for a lot of different terroirs, which clearly are not identical. Just look at Russian River Valley Pinots from the northeastern edge of the area and compare them with those from the southwestern edge. The wines are radically different.
Terroir normally is applied to blocks of vineyards that can be very tiny or relatively sprawling, depending on various factors. But almost no one with any knowledge of the subject would talk about the terroir of an entire appellation, unless it is one as small as Cole Ranch, the smallest AVA in the country at less than 190 acres.
And once you taste a Riesling from Cole Ranch, you know why that AVA's appellation very nearly defines its terroir. So why does all this matter? Because historically terroir was one of the crucial elements in defining a wine's quality as well as its character. If a St-Estephe was rich and opulent and not very much like a St-Estephe, it would be seen not as a very good example of the region – even though people might like the wine. I have had Savigny-les-Beaunes that tasted like Fixins. I may have liked such a Savigny, but I have said, "It isn't very much like a Savigny" - and that is a form of criticism.
Even Heimoff comments that he has had "the most awful (and expensive) Napa Valley Cabernets, and so have learned to minimize my expectations based merely on origin". Which is a good thing. A lot of Napa Cabernets haven't got the slightest thing Napa or Cabernet about them.
But in the last 30 years or so, a new breed of "analyst," and I use the word loosely, has come along to rate wines' quality based solely on hedonistic elements. This form of wine critique consciously (unconsciously, actually) ignores terroir as a function of a wine's quality. The sole criterion for a wine to score high is if, and only if, it tastes good. And by "good," these people do not factor in either terroir issues or the ability of the wine to match with food. In their lexicon, good is what a wine is proclaimed to be irrespective of specific characteristics that are soil and climate related.
Indeed, one of the grand poobahs who subscribes to this concept once actually wrote that terroir is a word used by those who are trying to make an alibi for a badly made wine!
So if you should taste four dry Rieslings, one from Australia's Clare Valley, one from New Zealand's Esk Valley, one from Michigan's Old Mission Peninsula and one from Ontario, Canada, you'd be able to revel in the distinctions they deliver - and the differences that they share! Linked by being from the same grape variety, they not only show how sugar, acid, pH and other elements in them work to make for each wine's particular level of "dryness," but they display charms that must not be compared but rather contrasted.
Should all great wine from the same grape smell and taste the same? Of course not. How boring is that idea? So let's go back to that word "generally". We know what the typical Napa Cabernet once was, and today there are very few wines that smell and taste generally like those in the 1970s. The 2006 Leo Joseph Cabernet, 2004 Corison, and the 2006 Frog's Leap Cabernet are three wines that hearken back to those days, and they give us a sense of the soils from which they came.
By contrast, Vineyard 29's version of Cabernet has nothing to do with either the grape or the region, as vast as Napa is. Nor is terroir an issue. The 2005 Vineyard 29 wine called Aida may be "worth" 95 points from someone, but it is worth very little as a reflection of where it is from. This wine displays how terroir may be manipulated, contorted, and destroyed by a hand desirous of points more than displaying what traditionally was a wine's manifest destiny - its regional distinctiveness.
Appellation is, thus, nothing but a generalized look at various terroir-al influences
, and

READER FEEDBACK: To post your comments on this story, click here
Print this article  |  Email this article  |  More about America  |  More from Dan Berger