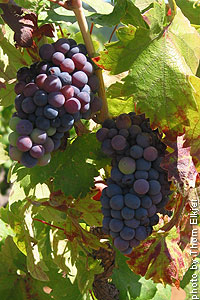 Sierra Foothills Zin In One Word: Diversity
by Jean Deitz Sexton
January 19, 2007
---
"It impresses people to discover how different the Zins are from each region. You can get styles ranging from over the top jammy to a very well structured Claret style wine, which is a little lower in alcohol but has a lot of tannin and structure," observes Justin Boeger, winemaker at
El Dorado
County's
Boeger Winery
. Boeger is also president of
ZAP
whose annual festival begins this January 24th in San Francisco.
Viva Zinfandel! is this year's ZAP festival theme. "It is a celebration of the diverse and dynamic character of Zinfandel," says Boeger. "Zinfandel is more highly regarded now and that says a lot about the success that the California Zin industry has had in branding its wine," says Boeger.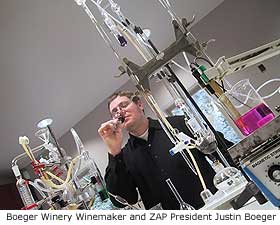 As ZAP president, Boeger says his personal goals are "to reach out more to other countries and winemaking regions, to bring in even more styles and variations of Zinfandel."
Boeger and his father Greg produce one of the most notable Foothills Zins, with fruit which they buy from Walker Vineyard. "It is my personal favorite of the Zins we make," says Justin Boeger. "I bring it to my winemaker friends for dinner." The Boeger Walker Vineyard Zin (05, $18) is a big, 15.5 percent alcohol wine blended with 20 percent
Petite Sirah
, which kicks the wine up a notch, giving it a pepper spice note, along with the blackberry flavors.
Boeger's Walker Vineyard Zin is a good example of how microclimates in the Foothills influence the wine. The vineyard is located in the Oak Hill region south of Diamond Springs on a hillside over the Consumnes River, halfway between Fair Play and Placerville. The soil is decomposed granite and the elevation is 2,100. "It's a sweet spot for Zin," says Greg Boeger. Zinfandel needs enough warmth to develop richness of flavor and yet too much creates burning and raisining, a common threat. At 2,100 elevation, the climate is just cool enough to ward off these threats.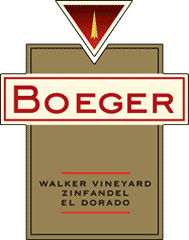 The winery also produces an estate Zinfandel, from cuttings which originate from an old clone dating back to the original Placerville winery property, circa 1880s. They blend the old clone Zin with a Davis clone.
"El Dorado County has so many microclimates in terms of elevation and air flow drainages," says Greg Boeger, and, indeed, the entire AVA is hills and ridges. Grapes are grown in El Dorado from 1,200 to 3,400 feet elevation and can range from the Davis climactic zones 1 to 3. "We put our red varieties on the southwest slopes and our white varieties on the north," he notes.
Fair Play Identity
Within El Dorado County, one of the most distinctive AVAs is
Fair Play
, where consulting winemaker Marco Cappelli, former chief winemaker at Swanson Vineyards in the Napa Valley, is growing old vine Zin in the Herbert Vineyard which he purchased five years ago. The vineyard dates back to the 70s and Cappelli believes it is classic Fair Play fruit, offering notes of raspberry, red cherry and black pepper notes and mulberry on the palate.
Fair Play's terroir is quite defined: The soil is decomposed granite, with hardly any clay, lending itself to deeply flavored but somewhat leaner fruit. "Heavier clay Zins tend to be fatter and broader; in the hotter regions, they can often verge on jammy and pruny," says Cappelli. "Fair Play's fruit is fresher and the acids tend to be a little higher. It most resembles Howell Mountain in Napa Valley. The wines are very aromatic, peppery raspberry and spicy, but not as fat."
Cappelli is working with Miraflores Winery owner Victor Alvarez on a new El Dorado County Zin release. "The perfect marriage is my Zin with Miraflores fruit, which is fatter and jammier," says Cappelli, a quality which complements the spice and minerality of Herbert fruit. He is also making a Herbert Vineyard Zin for Toogood Estate to be released this year and eventually will release his own Cappelli Ranch Herbert Vineyard Zin.
Amador's Noble Zins
Of all the Foothills AVAs,
Amador County
, with its extensive Zin acreage and an impressive number of old vine blocks, can be credited with boosting California's Zinfandel profile. Growers such as Ken Deaver, who has 120-year old vines on his
Shenandoah Valley
property, have contributed to the mystique and quality of Amador County Zins.
Montevina
's high-end, Terra d'Oro Deaver Vineyard Zinfandel (04, $25), has old vine fruit. General manager Jeff Meyers, who was Montevina's winemaker for 18 years and is still an active participant in the winemaking, believes Amador County Zins are easier to profile than El Dorado. "Amador County has a more consistent flavor profile, with the primary characteristic being a clove or anise spice component. These are softer Oriental spice notes. The wines are more complex, multi-hued, with a little bit of ripe fruit berry characteristics, a little jammy quality," describes Meyers.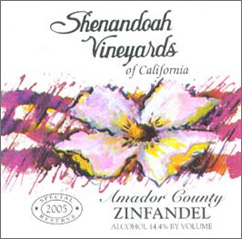 The winery has 400 acres planted in Amador County, 80 percent of which is Zin. Montevina grows its grapes in 1,200 to 2,000-feet elevation in very thin, rocky soils with an average depth of 18 inches, and a heavy iron content. The Sierra Series soils are sandy clay loam and decomposed granite. Montevina uses drip irrigation and controls the crop yield, which is low, at around four tons an acre. What all this means to the consumer is a Zinfandel with intensely concentrated flavors and richly hued color, a Zin not for wimps!
Unlike El Dorado, Amador County tends to be more uniformly a Davis Region 3, which also contributes to its consistency in Zins. Paul Sobon, winemaker at
Sobon Estate
and
Shenandoah Vineyards
notes that Zin needs a certain amount of warmth to ripen well and achieve the highest level of flavor. Shenandoah Valley also is in the mid-elevation range, 1,400-2,100 feet, which is the ideal for Zin.
A classic Shenandoah Valley Zin has blackberry and brambly notes with an earthiness which is derived from the terroir of decomposed granite with a red cast coming from the clay in the soil. The soil holds water well and supports the prevalent dry farming technique in the appellation, says Sobon. The Shenandoah Valley and
Fiddletown
AVAs have the advantage of good drainage, he notes. While this winter has been dry to date, rainfall in the Shenandoah Valley is normally around 34 inches.
Sobon Estate produces 25,000 cases of wine, of which 20,000 are Zinfandel. It offers four higher e