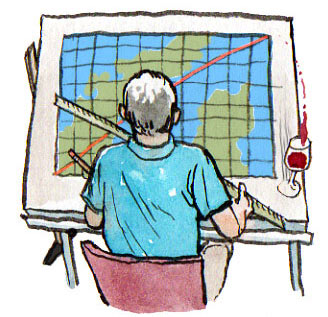 The Architect of Long Island's Three AVAs: An inteview with Richard Olsen-Harbich
"…I got quite adept at writing these (AVA petitions) up and actually really enjoyed the work and what I learned from the research."
by Lenn Thompson
October 26, 2006
---
<!>
Lenn Thompson (LT):
Tell me about your first winemaking job on Long Island. Where was it? When did you start?
Richard Olsen-Harbich (ROH):
I started working in
Long Island
vineyards in 1981 at Mudd Vineyard where I was doing vineyard installations and general field work. My first winemaking position was with The Bridgehampton Winery (on Long Island's southern fork), which was actually the second winery to begin producing and selling wine from Long Island. I started with the 1982 vintage, working with
Hermann J. Wiemer
as consultant, and made two stainless steel white wines -- a
Chardonnay
and a
Riesling
. At the time, many people thought we were out of our minds trying to sell a wine from Long Island for $12 but we did and it sold out fairly quickly too.
It's interesting to me that after all this time, I've come full circle on Chardonnay. I make stainless steel versions now and they are what I think this region does best.
LT:
Did people realize from the beginning that Merlot would reign over Long Island wine country? What was your first bottling?
ROH:
I remember going to an event at
Hargrave
Vineyards (now known as
Castello di Borghese Vineyard and Winery
) in 1981 where all the people involved in the local wine industry were invited. I think there were only 10 or 15 people there and we tasted quite a few different local wines -- Chardonnays, Merlots,
Cabs
, etc. I remember clearly that the Merlots stood far and above anything else that was there. They were ripe, fruity and supple. I feel the same way today.
The first Long Island wine that I bottled was a 1982 Bridgehampton Dry Riesling made with fruit grown in Watermill by Ken Conrad. I made my first Long Island Merlot at Bridgehampton in 1984 with fruit from the old Resslar Vineyard (now part of
Palmer Vineyards
).
We actually purchased a great deal of fruit from the
North Fork
because we didn't grow many reds and our vineyards were marginal to begin with. So over the ten years that I worked there, I saw a lot of different fruit from many different vineyards. By the mid 1980s, it was clear to me that the best red fruit I saw every year was Merlot. It was the most ripe, balanced and always needed the least amount of intervention from me.
LT:
Back when you first started, were Long Island wines bottled under the New York AVA?
ROH:
For a while, the only accepted terminology was New York State. The Hargraves were actually instrumental in getting the BATF to accept the term
New York
instead of New York State. Alex (Hargrave) would always argue with them that
California
didn't have to use the words "California State", so why should we? Both the Hargraves and The Bridgehampton Winery actually used the terms "Long Island" on their labels quite a bit before we had approved AVAs, due to the "For Sale in NYS only" exemption clause.
By late 1984, after feeling snubbed by other North Fork producers, Lyle Greenfield, who was the owner of Bridgehampton Winery, decided that we should go after our own AVA.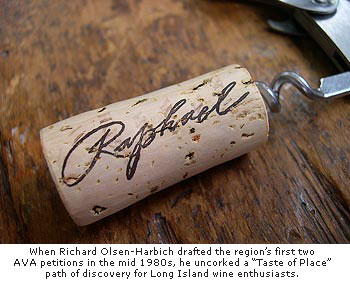 LT:
What made you decide to author Long Island's three local AVAs?
ROH:
It's quite a long story that starts in the summer of 1984.
Lyle Greenfield and I were attending a meeting of the then nascent Long Island Grape Growers Association (later to be re-formed into the Long Island Wine Council). I honestly don't think I knew what the meeting was going to be about but Lyle was adamant that we should go.
At that time we were the only winery on the South Fork. There were about 75 acres of grapes in production on the South Fork versus almost 600 on the North Fork. Little did I know this meeting was going to be about AVAs and the future of our regional branding. Lyle and a couple of other people there wanted to talk about the region as "Long Island" while most of the group wanted to use the North Fork. They had someone already lined up to write a North Fork AVA and they were going to submit it shortly after the meeting.
To make a long story short, about a week later Lyle called and said "Let's do our own AVA. Do you think you can do it?" So he gave me the time and supplies to do the work and it took me about six months to complete. As it turns out, "
The Hamptons, Long Island
" was the first AVA approved on Long Island and we started using it immediately.
The North Fork submission kept getting rejected for lack of information. About six months after The Hamptons was approved, I got a call from the North Fork group, asking me if I could complete their application. Needless to say, I got quite adept at writing these up and actually really enjoyed the work and what I learned from the research.
I always felt there should also be an all-encompassing Long Island AVA, so Raphael's owner Jack Petrocelli gave me the time to complete the work in 2000. I think it's important to have regional identity and purity and the AVAs gave the industry a way to help preserve that. I'm very proud of them.
LT:
What is the process of authoring AVAs like?
ROH:
First, you have to prove that the name submitted for the AVA is recognized as a real location -- not just made up -- and then you must prove its existence by showing historical usage. In addition, the grape-growing history of the proposed name must be documented -- acres of vines under cultivation, what the future might look like, economic impacts etc. This wasn't a problem at all. Interestingly enough, I found information on grape growing from some nurseries in western Long Island that dated back to the early 1700s.
Then, of course, there needs to be a case made that the AVA is geologically and climatically unique from the areas directly adjacent. This is the meat of the application and is done by using local soil surveys and weather data. It is quite time-consuming and takes a great deal of research and writing.
LT:
What were your most important research resources?
ROH:
One of my key resources for The Hamptons application was Richard Hendrickson, a farmer in Bridgehampton who had been keeping weather data since the late 1920s. We met quite a few time