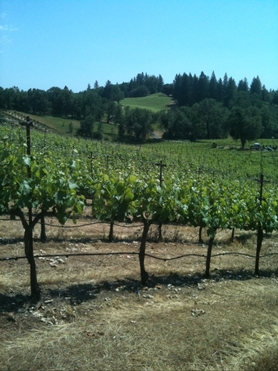 Amador County (County Appellation)
Shake Ridge Ranch - Gem of the Sierra
Shake Ridge Ranch has set a standard for viticulture in Amador County and the incredible list of winemakers who now source fruit from the amazing vineyard above Sutter Creek tell it's story in every vintage and bottle produced.
by Roger King
May 16, 2013
---
<!>
It has been a long time since the first vines were planted in Amador County back in the 1800's and they have been growing there since. The site of Shake Ridge Ranch was among them but reverted to pasture lands for over 80 years. Over those years lots of different approaches have been taken to viticulture, but possibly nothing like Shake Ridge Ranch in design, preparation and planting. Sure there are a lot of very well developed vineyards, but what Ann Kraemer and family have accomplished at Shake Ridge Ranch is awesome. And the list of high profile winemakers, many from Napa, who regularly journey to the hills just above Sutter Creek to secure Zinfandel, Barbera, Petite Sirah, Mourvedre, Grenache, Syrah, Tempranillo and Viognier is stunning.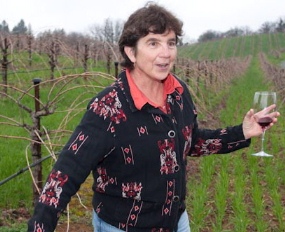 On May 14 Ann Kraemer and family invited, as they often do annually, a wide range of folks to come tour the vineyard blocks and taste. An intriguing format placed a winemaker under a tree (with an upright wine barrel as counter) right next to the block they secure, pouring and explaining what their wine of this place is about. It certainly was a snapshot of regional diversity with crystal clear focus.
Winemakers of Tribute to Grace, Newsome Harlow, BellaGrace, JC Cellars, Buccella, Aratas Wine, Tallulah, Ferdinand Wines, Keplinger Wines, Portalupi, Gallica, Enfield Wine Company, Yorba Wines (the Kraemer family label), Favia, Dirty and Rowdy (irrepressible Hardy Wallace), and Forlorn Hope all took part in the rather remote Sierra Foothills above gold country town Sutter Creek. The only person missing was Ann Kraemer herself, who had broken her ankle early that day and was off to hospital for surgery (reportedly doing well but laid up for the growing season).
Shake Ridge Ranch was developed starting in 2003 when the Kraemer Family had completed property acquisition and title work. They had been a citrus growing family from Southern CA while Ann Kraemer had ventured into viticulture and spent much time managing vineyards for Domaine Chandon and Swanson while eventually consulting to the likes of Cain, Calera, Hobbs and Shaefer. 25 years of experience was assembled before the Shake Ridge Ranch project started. From the original plantings in 03 an additional 12 acres where planted in 2009 to the current 46 acres of vines.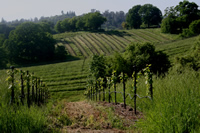 At first glance the vineyard blocks look like gloves fitted to the hand of each hillside, swale and contour. It was not by mistake, but by dedication to ultimate attention to detail. Patriarch Dan Kraemer, that citrus grower who now comes up to drive tractor a couple months each year, told a funny story of during ground work someone noticed a round object in the back pocket of her jeans while rolling rocks out of the vineyard blocks. The question was "do you chew"? A somewhat confused look got a better definition of chewing tobacco to which Ann pulled out that round object, which was a compass. That compass was used extensively to define the row orientation against the precise aspects she wanted.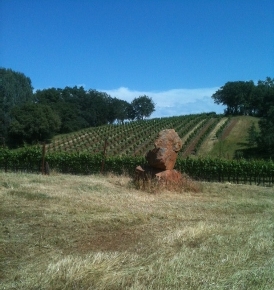 Granite is underlying this property and the soils, quartz is found easily in some blocks and red, ancient volcanic soils, pre-dating the 'more recent' geological uplift reflect the longer history of the Sierra Nevada. The vineyard blocks span over three small ridgelines and thus have multiple unique attributes. Each block of vines has been situated to leverage the right varietal, on the right rootstock and right trellis. Head pruned Zinfandel was placed where air movement and sun light required openness, trellised blocks aligned to sun exposure, air movement needed by each variety. About the only out of phase move was the original planting including Cabernet Sauvignon, which many advised against for the Foothills. After the first crop it was obvious that advise was very correct and the block was immediately grafted to Tempranillo, which now flourishes.
Air movements are a combination of day time breezes uplifting from the distant Delta followed by evening down drafts from the Sierra crest. The Consumnes River drainage is just to the north.
It is obvious there are no single blocks that dominate quality, they all do. When asked what variety is the standout, Annie Favia responded thoughtfully after consideration, "I don't think there is one, they are all just outstanding". She might know being involved with Ann Kraemer on this vineyard and making wine with her husband Andy Erickson.
So, what about all those wines that were being tasted? They tell the story plain and simple. There was one common attribute that could be found in each winemaker interpretation and found in each varietal and that was tannic expression. The tannins are consistent across the entire range, being very fine grained, sophisticated in texture, always present but not in the way of fruit. From Petite Sirah by Keplinger to Mourvedre by Dirty and Rowdy, while very different varieties and traits, that underlying tannin profile could be found. It undoubtedly speaks to this place.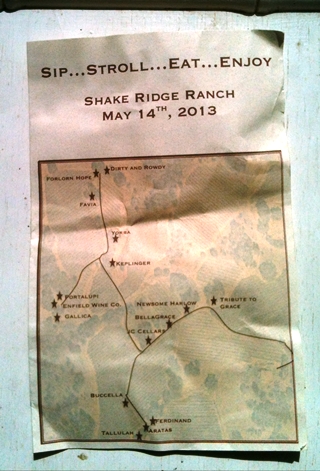 It is rare to see one vineyard with such a diverse set of winery clients all single vineyard labeled to Shake Ridge Ranch. Many wines were Rhone blends with Grenache Mourvedre and Syrah being a common theme, yet Barbera and Zinfandel get a major stage. Forlorn Hope had gone a step further with creating two versions of Barbera from Shake Ridge, one using sulphur and the other totally without sulphur. The natural acidity of the Barbera, put in the right spot in this vineyard, allowed for different results on nose and brightness on palate.
One of the stand out wines, if that could be said among this group, was Mourvedre done by Dirty and Rowdy from a small southern facing block high on the property. Soft and silky, yet expressing those defining tannins and bright fruit, it begged to keep tasting this wine. But it would be impossible to really claim any one wine stood out over the others. This group of exceptional winemakers is almost as unique as the vineyard itself, and they certainly present passionate statements of each block and variety.

Yorba is the family label (a tribute to the citrus growing company of So CA). They are just preparing to open a new tasting room (remember Shake Ridge Ranch is singularly a vineyard) in downtown Sutter Creek. Visitors to Amador County are finding this community is fast becoming the wine tasting and dining focal point in the more southern region of east/west Amador County. Shenandoah Valley (CA) AVA and Fiddletown AVA are more associated with Plymouth.
To cap off this incredible day, a wonderful outdoor dinner was prepared at sundown while this band of winemakers tore through multiple bottles of each others single vineyard offerings. Convergence at the pouring table was an amazing site.