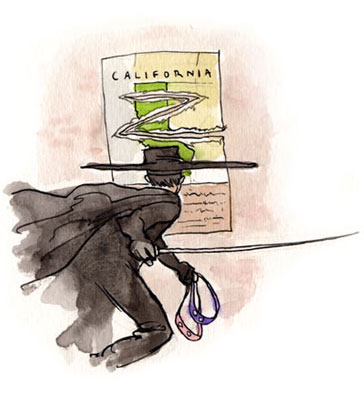 Zinfandel
Zinfandel...You're a master of disguise. Who is that masked man known as ZIN? You hide behind a mask of contradictory styles. Are you the soft, sweet hombre oft seen in the Central Valley, disguised in a vibrant pink cape? Or perhaps you are the fire-breathing rogue of the Sierra Foothills, a spicy-natured, tannic beast. How will you appear next?...and where! Always willing to change your facade to suit the environment, your true nature seems to be adaptability, itself. You are a legend in California; friend of the poor pisano, and delight to the pompous patron. Truth is, you're no robber at all...you give to all!

Appellations Growing Zinfandel Grapes
Appellations producing the most Zinfandel wines: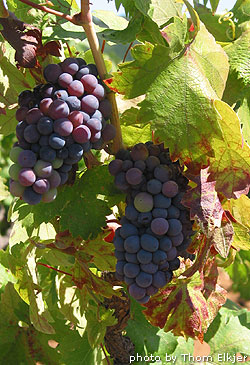 Zinfandel (Primitivo di Goia, Crljenak Kasteljanski, Pribidrag, Tribidrag)

Zinfandel is a variety with a most confusing history and lineage. Its origins have been hotly disputed for years and until recently Zinfandel was thought to have originated in southern Italy's Apulia region, where the genetically related Primitivo (di Goia) variety is widely grown. Further research suggested a possible parent/offspring relationship with the Plavic Mali grape from Croatia. What is now generally agreed upon is that the roots of Zinfandel (as well as Primitivo) are most likely in the Dalmatian province of Croatia (in the former Yugoslavia) where DNA matches have been made with a variety locally known by the name of Crljenak Kasteljanski (also Pribidrag or Tribidrag). The genetic linkage and similar origins of Italy's Primitivo and California's Zinfandel has been supported by the work of both Croatian and UC Davis researchers. However, despite being genetically alike, over the long period they have spent geographically separated, clonal differences seem to have evolved between the two. And true enough, notable differences are evident in both vine and wine characteristics of Italy's Primitivo and California's Zinfandel.

The highly speculative story behind Zinfandel's name, its confused identity, the trans-Atlantic voyage to America, and finally its trek across the continent to its eventual home in California is far too much to deal with here, and is perhaps a tale more suited to Hollywood mini-series screenwriters.

In terms of Zinfandel's wine style, the story is equally provocative. Opinions about how to classify this grape have also shifted continuously, as consumer whims have tested Zinfandel's ability to play the chameleon. Zinfandel has delivered not only zesty, berry-fruity reds, but spicy tannic beasts, vin nouveau, and tart, intriguing roses. There have also been soft, simple and sweet blushes, unusual sparklers, dessert and fortified wines, and nearly combustible, highly-alcoholic versions. Zinfandel has always found ways to remain useful and to maintain its plantings in California, even as fickle consumer tastes bounce from one style to the next. Most have crowned Cabernet Sauvignon as King in California. However, Zinfandel is the only red varietal that comes close to Cabernet in total acreage and volume of fruit crushed. Fortunately, Zinfandel has finally become trendy, and after years of playing second fiddle, it is taking much of the spotlight. The variety is currently planted just about everywhere across the state, in a wide range of climactic zones. It reaches its height in the ancient plantings of Amador County's Sierra Foothills, and in northern Sonoma venues like Dry Creek, Geyserville and Lytton Springs. Outside of California, a scattering of Zinfandel plantings exist in southern Oregon, Mexico, and South America, and as a curiosity in the odd Australian and South African vineyard.

Livermore Valley
The New Old Livermore Valley
By
Laura Ness

San Francisco Bay
No Dirt Shackles For Urban Wineries
By
Eleanor & Ray Heald

Mendocino Ridge
Mendocino Ridge AVA is Zinfandel Heaven
By
Rhoda Stewart

Sonoma County
The Zinfandel Gospel According to
Joel Peterson
By
Rhoda Stewart

Paso Robles
Doing the Paso Robles Paso Doble
at Bianchi Winery
By
Laura Ness

Dry Creek Valley
Evolution of a brand - Zinfanatics are crazy about it.
By
Eleanor & Ray Heald
Santa Cruz Mountains
Muccigrosso Vineyards: Tiny Winery, Big Personalities
By
Laura Ness