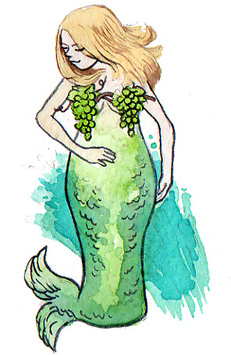 Verdicchio
You are young and pale, sister to the mermaids of the Adriatic. You're a simple and unassuming blonde, and you inhabit the hilltowns of your native Italy, where you skip lightly down to the sea to frolic with the fish. But your lightness betrays the hint of bitterness deep in your heart. You are as crisp as the air after autumn rains, and it has been whispered that you are a little nutty. Only your lovers know your bubbly side, and refreshingly dry wit.


Varietal Character by Julie Holm
Appellations Growing Verdicchio Grapes
Appellations producing the most Verdicchio wines:
Verdicchio (a.k.a. Marchigiano, Uva Marana, Verdone)

Verdicchio has been a hugely popular grape in its home province of the Marches, on the Adriatic coast of Italy, where it reportedly has been grown since the 1300s. This white wine-producing variety is mainly cultivated for use in crisp dry wines of the same name, often with a somewhat grassy aroma – the perfect accompaniment for the regional cuisine based on local fish.

The tradition of bottling in shapely amphora-like bottles (some claim the curves were modeled after the figure of Italian starlet Gina Lollobrigida) has perhaps contributed to Verdichhio wines not being taken seriously, but in the hands of the best producers, the variety may be one of the best whites Italy has to offer. The naturally high acid of the grape also has utility in sparkling wines.