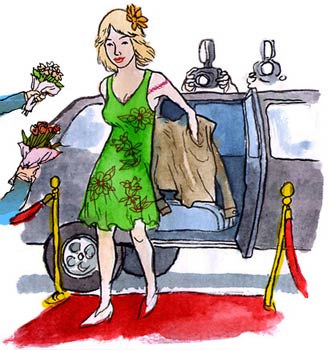 Traminette
You are the daughter of that spicy bad girl of the royal vinifera clan, Gewürztraminer, and that dependable hard-working fellow Seyval Blanc. Your father's restraint and strong backbone are clearly evident, but you do have your mother's zest for life. You are a perfect spring garden of floral scents whipped by the winds of enchantment. A Princess Diana of the grape world. On the outside, you appear to be the quiet and obeying wife, but on the inside there is a fire that longs to seduce all who venture to know you.


Varietal Character by Robin Lane
Appellations Growing Traminette Grapes
Appellations producing the most Traminette wines: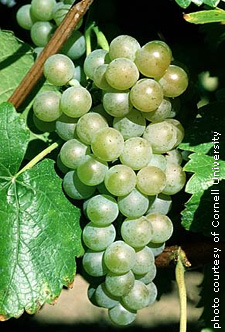 Traminette

This white wine-producing hybrid, a cross of Gewurztraminer and Joannes Seyve 23-416, produces excellent quality wine with distinct Gewurztraminer characteristics, including a similar aroma. Only released at Geneva, New York, in 1996, Traminette has steadily grown in commercial significance in the Empire State, Michigan and Pennsylvania ever since.

Traminette is suited to several different wine styles, including dry and sweet versions, with the former displaying good viscosity. Aging well, wine produced from this grape develops honey and apricot flavors in two to five years. The grape's fairly high acidity and low pH levels harmonize with its typically fresh fruit aromas and floral-spicy flavors. However, Muscat-like flavors may develop, if long skin contact is employed prior to fermentation.

Much more winter hardy than Gewurztraminer, Traminette is suitable for cool climates, and matures in late mid-season, usually early to mid-October. In warmer areas, increased bitterness and a high pH must can become a problem. If so, shorter skin contact time is recommended. Bearing large clusters, the grape has good yields in the vineyard, delivers excellent fruit quality, and has good disease resistance to Powdery Mildew, black rot, and Botrytis.