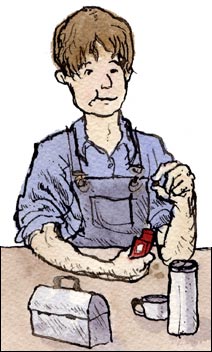 Thompson Seedless
You're the boy next door, hardworking and sweet. The ideal factory worker. Your personality is bland but unoffensive, and you never lose your pleasant nature even in the Central Valley heat. Mr. T it seems the jug wine consumers don't know you made the wine they drink. The public only knows you as a raisin.

Appellations Growing Thompson Seedless Grapes
Appellations producing the most Thompson Seedless wines:
Thompson Seedless Grape Details
Thompson Seedless, the California name for the white grape variety Sultana, is unquestionably the most planted grape in the Golden State. Its 267,000 acres in 1997 far surpassed total plantings of Chardonnay, which is California's second most planted grape. Massive quantities of Thompson Seedless are grown in the hot, dry Central Valley, nearly two-thirds of it in Fresno County, the center of the state's raisin production. Also popular in Arizona, this variety needs ample heat for harvesting in August and September. Most of the crop is used for table or dried grapes, with some of it used in jug wines made by bulk producers. Named for William Thompson, an early grower of the variety near Yuba City, the grape may have originated in Persia, modern-day Iran.