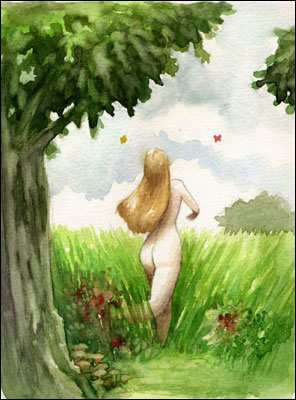 Sauvignon Blanc

You are one sexy gal, Sauvignon Blanc, trotting joyously through fields of grass, with your long, blond tresses blowing in the breeze. We envision you with leis of wild flowers and gooseberries bouncing on your bosoms; you absorb all the herbal essences around you. You are young and fresh - crisp even - with taut skin and daring spunk. You have the steely courage to bound up to us bare-naked. Yet when you do don cloths of oak you present yourself in a most exotic way. However, most would agree that you are best au naturel!

Appellations Growing Sauvignon Blanc Grapes
Appellations producing the most Sauvignon Blanc wines:
Sauvignon Blanc Grape Details
Sauvignon Blanc (aka. Blanc Fume, Fume Blanc, Savagnin Musque)

Sauvignon Blanc is widely grown in California -- at over 15,000 acres, it's now the third most planted variety -- and often assumes the moniker 'Fume Blanc'. This popular synonym, credited to Napa's Robert Mondavi, derives from the grape's historic home of Pouilly in France's Upper Loire Valley, where Sauvignon Blanc is the dominant varietal and goes locally by the name of 'Blanc Fumé'. This noble grape is also successfully grown in Washington State and in New York on Long Island. In Canada, the variety is establishing a foothold in both the Niagara region of Ontario and British Columbia's Okanagan Valley.

When treated with respect and afforded suitable growing conditions, it is one of the wine world's darlings. Dry wines made from this grape are characterized by steely, racy acidity, green, gooseberry fruit, asparagus and a grassy, herbaceous character. It is rarely oaked, except in California, where it has often been subjected to such extreme winemaking as new oak, extended lees contact and malolactic fermentation. Here, it produces a tropical, buttery style of Sauvignon Blanc. However, California producers are increasingly using less oak, to create more naturally expressive wines.

In France's Pouilly Fume, the grape expresses its most subtle complexity, with the best wines grown on limestone hills with a high proportion of flint, said to give the wines a gun smoke (flinty) aroma. Elsewhere in France, namely Bordeaux's Graves and Entre-Deux-Mers regions, Sauvignon Blanc has had a long, if uneven, history. Here, the variety co-stars with another white, the more supple Semillon, in addition to a minor supportive role played by the more perfumed Muscadelle. In Bordeaux, Sauvignon Blanc not only makes dry wines, it plays an important, albeit subsidiary role, in the highly-prized sweet wines of Sauternes and Barsac. In these lavishly rich wines, its sharp acidity helps to balance the round and almost waxy nature of botrytis-affected Semillon.

Across the border in Italy, producers such as Jermann, Schiopetto and Livio Fellugia have made Collio and the Colli Orientali DOCs famous with their impressively expressive versions of Sauvigon Blanc.

Sauvignon Blanc has also found a home in the southern hemisphere, most notably the Marlborough region of New Zealand's South Island where they have fashioned a modern style of this classic, profiling a more fruit driven tropical expression of the grape. Indeed, the Sauvignon Blancs of New Zealand can stun the uninitiated with their intensity, and may seem an altogether different wine than the traditional grassy or flinty versions. Typical examples have powerful aromatics with classic gooseberry fruit, and freshly-mown grass elements, complimented by rich tropical fruit salad aromas. They are matched with richly characterful palates and tart, edgy acidity. Marlborough's advantage over competing growing regions is its long, sunny growing season, with dry autumns and cool nights. The grapes are allowed to ripen on the vine much longer here than elsewhere, enabling fruit intensity to be maximized. Meanwhile, the area's cool nights retain the grape's natural and balancing, razor-sharp acidity. The Kiwis can also be credited with implementing modern and effective methods of canopy management, keeping crop levels to a minimum and picking the grapes at varying times to create more complex wines.

Sauvignon Blanc is produced as a dry wine in all corners of the wine world. Even if you cross the Tasman Sea, from New Zealand to its brasher antipodal neighbor Australia, the grape is successful. Cool corners of Australia, such as the Yarra Valley in Victoria, are showing potential with Sauvignon Blanc based wines, even if they rarely produce wine with the same edge as their Kiwi counterparts. South Africa also produces reliably characterful Sauvignon-based wines, as does Chile's cool Casablanca Valley.

Livermore Valley
The New Old Livermore Valley
By
Laura Ness

Bennett Valley
MATANZAS CREEK
By
Alan Goldfarb

Napa Valley
Titus Brothers Shooting Blancs
First Time Out
By
Alan Goldfarb

Texas Hill Country
From Tuscany to Provence in Texas Hill Country
By
Eleanor & Ray Heald

Santa Ynez Valley
Gainey Vineyard
Runs Hot and Cold*
By
Dennis Schaefer

Monterey
Monterey Hones Its Identity
By
Laurie Daniel

Napa Valley
Bottle Shocked:
Uncorking the Real Gustavo Brambila
By
Alan Goldfarb