Petite Sirah
Do you need some vinous inspiration...
How about a wine with glorious sensation?

As you're grillin' your steak this Fourth of July,
And suggesting to friends what wine they should buy,
Please think of a wine with American roots,
And give your party a drink for which you can toot.

Sirah with an "i" is all that I ask,
While swimmers are swimmin', and sunbathers bask.
Some dads will be firin' up their new grills,
All shiny and bright, with lots of the frills.

A heritage day and a heritage wine,
A big slab o'beef with some fruit of the vine.
For the sake of our past, please hold this thought tight…
A scrumptious Petite with your steak… morning, noon or night!


Varietal Character by Jo Diaz
Appellations Growing Petite Sirah Grapes
Appellations producing the most Petite Sirah wines:
Petite Sirah Grape Details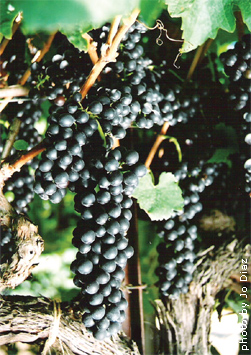 Petite Sirah (aka. Durif, Petite Syrah)

Developed in the 1870s in France's Rhône region where it is known as Durif or Petite Syrah, this grape variety is more commonly known by its slightly anglicized synonym, Petite Sirah -- particularly in California.

The result of a cross between the noble Syrah and a relatively minor Rhône variety, Peloursin, Durif was developed to resist Powdery Mildew, to which Syrah is susceptible. Although mildew-resistant, the tightly-bunched variety was vulnerable to gray rot in the humid southern Rhône. Fortunately, the grape has adapted well to the drier climates of California, and to those of northeastern Victoria, in Australia. In fact, the grape has succeeded better abroad than in its south of France birthplace, where it is now almost extinct.

Its small berries, and consequently high skin-to-juice ratio, allow Petite Sirah to produce wines with high tannin levels, surprisingly high acidity, and thus the ability to age. Characteristically, these wines have dense blackberry fruit character, mixed with black pepper notes. The grape's similarity to parent Syrah became confusing for early planters in California. Starting in the 1880s, some of the original Durif vines were confused for a clone of Syrah and subsequently named Petite Sirah.

Until the push for varietally-labeled wines came to the fore in the 1960s and 1970s, little thought was given to the actual name of this variety in California. It was often added to provide color and body to California's bulk wine production, or used to add richness to North Coast Zinfandel and Barbera. Recent research by Doctor Carole Meredith, at U. C. Davis, has confirmed many of California's Petite Sirah vines to be Durif. Still, other vineyards thought to be planted to Petite Sirah have been identified as Syrah, Pinot Noir, and even Peloursin, with other plots a mixture of many varieties. "While winemakers may be content to live with the genetic heterogeneity that is Petite Sirah today, varietal labeling regulations may eventually force the issue," C. Meredith says. "One day, the winemakers may be asked to agree upon a single variety that can bear the name Petite Sirah. Which one will they choose? What is Petite Sirah?" Recent amendments by the TTB (BATF) allow wines to be labeled either Durif or any of the many different spellings of Petite Sirah. By any name, this variety has the ability to create rich, age worthy reds and is reestablishing itself as one California's great grapes.

Highly recommended for further information on Petite Sirah, is the P.S. I Love You site, with its mission to promote, educate, and legitimize Petite Sirah as a noble variety, with a special emphasis on its California terroir uniqueness.

Livermore Valley
The New Old Livermore Valley
By
Laura Ness

Paso Robles
Doing the Paso Robles Paso Doble
at Bianchi Winery
By
Laura Ness

Napa Valley
Napa Valley High:
Mountains of Difference
By
Roger Dial

St. Helena ~ Napa Valley
August Briggs: It's both the winemaker and the vineyard
By
Alan Goldfarb

Napa Valley
It's The Envy of Napa Valley
By
Alan Goldfarb

St. Helena ~ Napa Valley
Kicking the 'Dust' off Cabernet
By
Alan Goldfarb