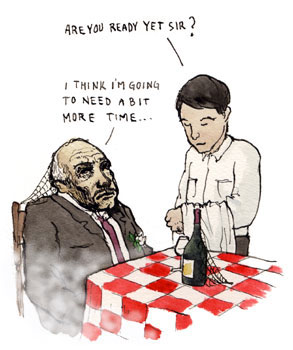 Nebbiolo
One must speak softly and with the utmost respect of you, Capo Crimini, our Italian boss of bosses. Known to most as Don 'Barolo', you rule with a tannic, iron fist. One needs infinite patience to attain an audience with you. Rarely witnessed is your soft side, but the lucky few who live to experience your compassion sing your praises. The young, (Vinny) 'Barbaresco' seems to be a more approachable and less intimidating member of the family Nebbiolo, but the prudent wouldn't dare approach either of you without at least a decanter. Although Old World authorities are wise to your racket, in California the name "Nebbiolo" is still shrouded in fog.

Appellations Growing Nebbiolo Grapes
Appellations producing the most Nebbiolo wines:
| | |
| --- | --- |
| | International (Country Appellation) |
| | |
| | |
| | |
| | |
Nebbiolo (aka. Spanna, Spana, Chiavennasca)

This black-skinned Italian variety is responsible for some of the best and longest lived red wines of Italy. However, despite the tremendous standing the Nebbiolo grape enjoys at home this native of the Piedmont region in northern Italy rarely triumphs abroad, or even outside of the Piedmont, for that matter. Even so, the quality of wines based on Nebbiolo, such as the DOCGs Barolo and Barbaresco, has encouraged limited plantings of this variety around the globe, from North and South America, to Australia.

The name derives from nebbia, the Italian word for 'fog', which regularly enshrouds the foothill vineyards of the Piedmont region during harvest. Without question the benchmarks for Nebbiolo wines are Barolo and Barbaresco – both Piedmontese wines with powerful tannic structures, impeccable finesse and intense, earthy, dark noses, with hints of floral beauty. The aroma of classic Barolo is often described as tar and tobacco smoke, combined with violets and rose petals. Neighboring Barbaresco fashions the Nebbiolo grape into a slightly more feminine style of wine. While Barbaresco can be more approachable in youth, more elegant, and more forthcoming with fruit than Barolo, it should not be mistaken to be light in weight or structure. Both the Barolo and Barbaresco versions of Nebbiolo possess an amazing combination of muscular tannins and high acidity. Traditional versions generally require extensive cellaring (both in cask and bottle) to fully show off the grape's more subtle fruit character. As is the trend internationally, many modern versions of Barolo and Barbaresco are being fashioned with less extensive maturation periods, using new smaller oak barrels, to create a more extracted, fruit driven and approachable style of wine.

Nebbiolo is a late-ripening variety that enjoys the moderate summers and long autumns of Piedmont and Lombardy, requiring as much ripening time as possible to balance its natural high acidity. Akin to that other terroir-specific varietal, Pinot Noir, it also requires patient and passionate vignerons who possess an intrinsic understanding of its needs.

Nebbiolo has yet to break into the mainstream as a varietal in North American vineyards. Notwithstanding, a handful of devout Italian varietalists in California's Sierra Foothills and Central Coast appellations like Paso Robles and the Santa Ynez Valley, are proceeding with young plantings in anticipation of Nebbiolo's rising to more fashionable status in the US marketplace, just as Italy's other notable red, Sangiovese has in recent years. Outside of California, pockets of Nebbiolo are found in the drier regions of the Pacific North West, such as Washington's Columbia Valley and Oregon's Rogue Valley. And on the east coast, Virginia winegrowers seem determined to make a name for themselves as leaders in the production of American Nebbiolo.

Red Mountain
The Sun Shines Bright
On Klipsun Vineyard
By
Anne Sampson

Santa Cruz Mountains
Tango in the Vineyard - The Love Affair of Martin Ranch
By
Laura Ness