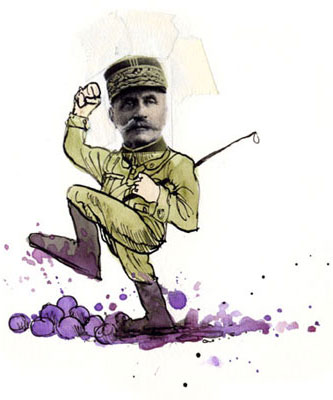 Marechal Foch
Who is this little French hybrid chap that has become so popular in the Midwest and on the eastern seaboard? And what's with your name? Perhaps it is because you were bred to liberate your homeland of France from the scourge of phylloxera, just as your namesake liberated it from the Germans. Like the great General Foch, marching triumphantly through Champagne in the Battle of the Marne, you have conquered the cold climates of North America. However, your most difficult campaign will be to defend your territories against the imperialistic march of Vinifera.

Appellations Growing Marechal Foch Grapes
Appellations producing the most Marechal Foch wines:
Marechal Foch Grape Details
Marechal Foch (aka. Foch, Kuhlmann 188-2)

Marechal Foch is a vigorous, early-ripening variety, with good winter hardiness. It is well suited to cold-climate regions in Canada's Niagara Peninsula and Nova Scotia. It is also popular in New York's Finger Lakes, the north Atlantic States, and in viticultural areas of the northern Midwest. Still commercially important, this French-American hybrid developed by Eugene Kuhlmann is reportedly the result of a North American riparia-rupestris and a vinifera (Goldriesling) pairing. This is identical to the parentage of the Leon Millot grape. However, some believe the North American parent is really Oberlin Noir, a Gamay-riparia cross once commercially cultivated in Burgundy. Whatever the true genealogy of the cultivar, Marechal Foch is often considered to possess Burgundian characteristics, having a vibrant, deep purple color, with a light-medium structure and dark berry fruit characteristics. Some tasters find the similarities to Burgundy Pinot Noir become more pronounced with age. Perhaps an argument for why the grape clings to a few acres in Oregon's Willamette Valley.

Nova Scotia
A Bridge Not Too Far
By
Craig Pinhey