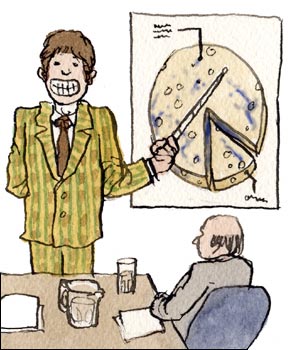 Lemberger
In your Austrian homeland you conduct business in some lofty circles. Your handsome dark appearance and jovial nature has garnered you well deserved respect. Though you tried valiantly to expand your portfolio in the North American market, you have run into a serious advertising dilemma. It seems consumers can't seem to get past your unfortunately pungently cheesy name. You are a victim of poor packaging rather than any lack of quality. You have carved out only small niche markets in Washington State and the Finger Lakes.

Appellations Growing Lemberger Grapes
Appellations producing the most Lemberger wines:
Lemberger (aka. Limberger, Blaufrankisch, Blauer Limberger , Franconia, Kekfrankos))

Lemberger demonstrates that it can produce light fruity reds in New York's Finger Lakes district and in Washington State, even though this late-ripening red grape has had only moderate success in Europe. It is known by many names: Limberger in Germany, Blaufränkisch in Austria, Franconia in Friuli and Kekfrankos in Hungary. By any name, this wine is typically light, fruity and acidic. It is characterized by its deep color and by an earthy fruitiness that has likened the grape to both Gamay and Merlot. Hard to ripen in most of Germany, it is at its strongest in the warmer climate of Burgenland in Austria. In Hungary it has critically damaged the reputation of the once renowned Egri Bikaver or 'Bull's Blood'. Traditionally, 'Bull's Blood' was made by the richer and more fiercely expressive Kadarka grape. But sadly, modern versions made with significant amounts of Kekfrankos have created wines more appropriately described as "Heifer's Hooch"