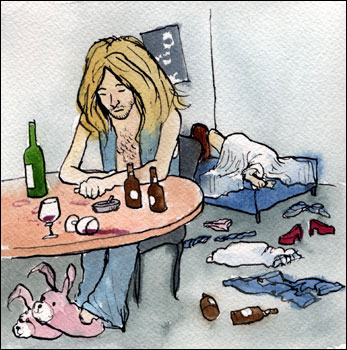 Grenache
You're a member of the 'Rhône Ranger' band. Your groupies think you're 'hot', even when you're boozy and "strung out". You're hairy, yet they want you, and you're always a willing partner. Is it your Spanish heritage that makes them crazy? Perhaps, but really it's because you have a rather sweet personality. Grenache you're the most famous backup guitarist, playing a lightly tannic beat in some of the better groups.

Appellations Growing Grenache Grapes
Appellations producing the most Grenache wines:
Grenache (aka. Grenache Noir, Garnacha, Cannonau, Lladoner, Tinto Aragones, Alicante)

Traditionally in California, Grenache has mostly been planted in the warm Central Valley, to produce fruity, quaffable reds and pinks. But the emergence of Rhône blends, enthusiastically promoted by a band of winemakers known as the 'Rhone Rangers', has sparked an increase in plantings of Grenache in more esteemed California viticultural zones. Significant acreage of this grape is found in Santa Barbara and Monterey counties. Grenache's ability to produce in warm climates has made it a workhorse varietal not only in California, but also in the warmth of South Australia and South Africa. Grenache-based wines tend to be high in alcohol, with attractive fruit qualities in youth. Grenache's sweet berry character, makes it a successful candidate for rosé wines, the most famous coming from the southern French appellations of Tavel and Lirac. This hairy-leafed vine produces grapes naturally low in tannin and in color. These qualities are exacerbated if the vine is allowed to overproduce, which it does willingly. The grape is most often found playing a supporting role in blended wines. Throughout the Mediterranean and California, Grenache is partnered with a long list of varietals, including Tempranillo, Syrah, Mourvèdre, Carignan and Cinsault. Its strength is its ability to grow in arid and windy conditions, and it's particularly suited to warm coastal regions of California, Spain and France. The most planted grape in Spain, where it is known as Garnacha, it is found in almost every region of that country. When blended with Tempranillo in Rioja, Garnacha can provide the wines of the region with body and alcoholic strength. In France, it is extensively grown in the Southern Rhône, Provence and Languedoc-Roussillon. It is a component of almost every appellation in the south. In the Southern Rhône, it partners with the more tannic Syrah, to add youthful fruit and alcohol to Côtes de Rhône wines. Its ability to withstand the bluster of the Mistral wind permits it to grow easily in the Rhône's most famous appellation, Chateneuf de Pape. In the few instances in which Grenache is grown on infertile soil with very limited yields, it can produce impressive, crimson-pigmented wine, with rich fruit character.

Paso Robles
Is Paso Robles the Rhône Region of America?
By
Laura Ness

Monterey
Monterey Hones Its Identity
By
Laurie Daniel

Santa Ynez Valley
The Biodynamic Story
of Beckmen Vineyards
By
Dennis Schaefer

Santa Cruz Mountains
Meet Rachel Ormes
Earth Mother of the Vines
By
Laura Ness

Paso Robles
Tablas Creek Terroir:
A Sense of Place
By
Harry Haff

Horse Heaven Hills
Cab May Be King, But at Zefina the Rhones Rule
By
Anne Sampson
Santa Ynez Valley
Clay Brock is on Top of the World...
er, the Mesa
By
Dennis Schaefer