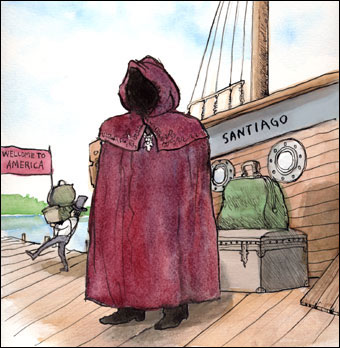 Carmenere
Banished from your homeland, you hid from society for over a century under a dark cloak of mystery. Finally, you have emerged from your exile in Chile to reclaim your rightful position as a part of a noble family. In this South American country you have firmly established your strength of character, as one of its emerging leaders of industry. This success and your noble character have sparked interest in 'royal crazed' California. Even some Bordelaise have welcomed you back to join them on some esteemed family estates.

Appellations Growing Carmenere Grapes
Appellations producing the most Carmenere wines:
| | |
| --- | --- |
| | |
| | |
| International (Country Appellation) | |
| | |
| | |
Carmenere (aka. Cabarnelle, Carbouet, Carmenelle, Grande Carmenet, Grande Vidure)

Carmenere is a rediscovered grape variety that's beginning to make waves in California. Eclectic producers, such as Guenoc, are blending Carmenere with Bordeaux grapes such as Merlot, Cabernet Franc, Cabernet Sauvignon and Petit Verdot as part of traditional Meritage blends. Forgotten for over a century, Carmenere had become a viticultural dinosaur. But then Carmenere was found anew growing abundantly in Chile. Brought there in the 1850s before the ravages of the great phylloxera epidemic in Medoc and Graves, it has remained bug free in Chile ever since. Due to a similarity in appearance of the vines, Carmenere was often mistaken for Merlot. There have been exciting results from wines made from Carmenere in Chile. The success of these wines could help Chile, a country without an identifiable varietal leader of its own, establish some market distinction. Historically in Bordeaux, Carmenere was very important, as it added roundness of texture, color and character. It suffered greatly during the great phylloxera epidemic in Europe. If that wasn't its final demise, low yields and susceptibility to oidium certainly were. The name Carmenere comes from the most intensely crimson (Carmon) hue of the wines made from the grape.