Boxwood Winery
2010 Boxwood Trellis - Estate
(Middleburg Virginia)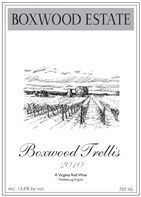 Deep ruby color. Powerfully complex blend of bramble, spice, hybiscus, thyme, cocoa and saddle leather. Masculine, well knit tannins frame a lively spectrum of bright aromatics. Charged with a racy minerality, dancing on the palate from its entry to its finish, unencumbered by excessive alcohol. Built to last.